Carole and Galen Myotherapy
Qualifications: Diploma, Canine First Aid, COVID19 Certification
I am fully insured for Public Liability & Professional Indemnity.
I am an animal lover and passionate about dogs. I have had 35 years of doggy experience.
I am a long-serving volunteer for two animal charities: The Cinnamon Trust, a nationwide charity which helps elderly and terminally ill people keep their pets and Last Chance Animal Rescue, based in New Romney and Edenbridge, which finds homes for dogs and other abandoned/unwanted animals.
I trained to become a Galen Myotherapist because I thought it would be wonderful to be able to help dogs live a healthier and, therefore, happier life.
It was a long and demanding journey but worth it to be able to work with dogs, which is a privilege and a joy. The trust and communication that takes place between me and a dog during a massage is uplifting and enlightening.
I cover most of East Sussex and parts of West Kent and can be easily contacted to discuss any areas outside of those shown on my home page.

A type of massage aimed at prevention, management and treatment of movement and associated disorders.
Galen Myotherapy can be effective in many conditions and situations, including:
Lameness, muscular injury, and repetitive strain
Osteoarthritis – in addition to anti-inflammatory drugs and also for dogs who are intolerant to anti-inflammatory drugs
Patella subluxation
Compensatory issues
Behavioural issues
Performance, sporting and working dogs
Post-surgery
Degenerative Myelopathy
Spondylosis
Cruciate Issues
Hip or Elbow Dysplasia
Osteochondritis
Maintenance treatments for certain conditions
My treatments will be specific to your dog and I will work closely with you to give you the tools to help your dog live a healthier and happier life.
The first appointment will be spent getting to know you and your dog and finding out about their history, which includes injuries and health, activities, exercise routine and environment, in order to build a comprehensive picture. It will also include a postural and hands-on assessment.
You may see a change in your dog's movement or behaviour after the first treatment, but it usually takes three sessions to make an effective change to a dog's muscular health.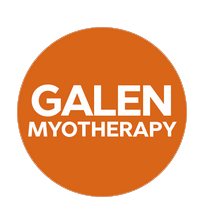 Find out more
Galen Myotherapy Distance Support.
Galen Myotherapy offers a programme for people and their dogs.
Perhaps you prefer not to have a visit or are out of my area. It offers you 1 to 1 guidance to enable you to help your dog. Please click on the link below for more information and prices.